What are some positives and negatives about collecting reborn dolls?
Mar 06, 2023 by Rebornartdoll®
What are some positives and negatives about collecting reborn dolls?
Reborn dolls are not like normal dolls. These are hyper-realistic dolls that look and even feel like real babies. Reborn dolls are made of silicone and vinyl. The history of Reborn baby dolls lies back to World War II Germany when mothers confronted lack of resources and were enforced to redecorate and redo the dolls of their daughters to give them a new look.



Nowadays Reborn dolls are kept and cared for by lots of collectors and doll lovers especially women as they were real babies. Women use to treat them like real babies, they dress them, feed them, bathe them, buy them new dresses and take them out for an outing. Reborn dolls are amazing with lots of positive aspects but some negative sides as well. Let's check out some of the positives and negatives about collecting Reborn baby dolls.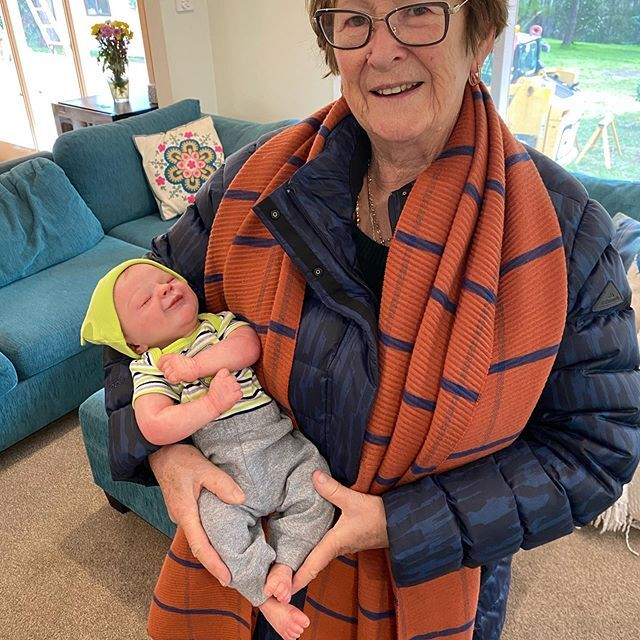 Positive sides of collecting Reborn dolls
• minibabydolls are a unique and amazing piece of artwork that everyone falls in love with them. They are not only lovely to care but also used as a therapeutic instrument in a number of conditions.
•minibabydolls are utilized for many therapeutic purposes for instance, for people suffering from Alzheimer and autistic children. The Reborn dolls are considered as good therapy to reduce autism issues and enhance communication ability.
• minibabydolls improve the condition of Alzheimer patients by relieving the moments of childhood, by getting them out of their loneliness and by enhancing their receptivity. In the USA the people suffering from Alzheimer are treated with Reborn baby dolls at present and their realistic character, their size and the way they are created are the right tools for such treatments.
• minibabydolls are also helpful in combatting depression and anxiety fundamentally in women. Such therapy is always recommended under professional supervision. Women suffering from mental illness like depression and anxiety or loss of a child are getting benefits from Reborn baby dolls.
• minibabydolls are very useful for new mothers in terms of adapting to a new life with a real baby. Reborn baby dolls are also used in preparatory classes. Lots of women used to prepare themselves with practice on silicone and vinyl babies to develop skills for real babies.
Negative sides of collecting Reborn dolls
• Reborn dolls are so lifelike and real that they creep out people. This phenomenon is called the "uncanny valley" effect. When people come across an object that is nearly similar to human but not actually a human being, most of the people feel uncomfortable and uneasy. In some cases, a low-grade fear was reported. People expect a real baby to be a baby and doll to be a doll. Their combination is a rare thing and creeps out people with a feeling of hater but this is not the case with everyone. Some people also comment like they hate Reborn baby dolls because they are so lifelike and real that they are just dead babies.
• One of the dark sides of Reborn baby dolls is the reaction of people outside the Reborn doll community make fun of the doll collectors and lovers. They may consider it a childish behavior and comment like mad and crazy people playing with dolls. It is believed by a group of people that the adults playing with dolls are mentally sick for sure but not everyone thinks in the same way.
• People collecting and playing with Reborn baby dolls refuse to interact with the actual world and used to stay in their own created world. But still, it is not really because of the Reborn dolls but some other deeper problems.
• Another dark side of the collecting reborn is the emotions and feelings for reborn leading to money problems. This hobby is not very cheap and a single doll may cost hundreds and even thousands of dollars. When the doll collectors or doll lovers are so obsessed with the hobby, they may buy any doll they want irrespective of the price tag. Such craze and obsession may lead to money problems if not debt.
• Another issue with Reborn doll collecting is the "scam". Most of the Reborn doll collectors and hobbyist got scammed and lost money to the scammers.
Conclusion
The reborn dolls and lifelike baby dolls now are more and more recognized as collections and training toys by society. Moms would love to buy a baby doll for their children, and many children also enjoy the gift and consider it as a friend.
However, buy a lifelike baby doll is still not an easy job. Besides more expensive than normal dolls, "scam" is always another problem in the market. Buyers should pay attention to buy lifelike baby dolls in formal stores.
Besides the professional collection store like Ashton Drake, you can choose a lifelike baby doll gift and collection store like minibabydolls. minibabydolls offer best price lifelike baby dolls for gift and collection and support express delivery.